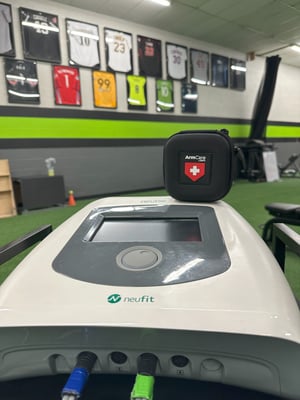 Activate your Body's Potential!
Welcome to Major League Activation, where we specialize in helping people improve their range of motion and reduce compensation patterns using the latest techniques and technology.
With over 19 years of professional baseball experience, I offer a unique perspective to the realms of mobility and injury prevention. Our approach seamlessly integrates Muscle Activation Technique with the revolutionary Neubie electrical stimulation device, ensuring a transformative experience that enhances your movement and well-being.
Whether you're middle-aged looking to improve your mobility after failed traditional physical therapy, or a baseball/softball player looking to improve your skills on the field, our approach can help you achieve your goals. Our customized approach is tailored to each client's individual needs, ensuring that you get the personalized attention you deserve.
Don't let pain or compensation patterns hold you back from living your best life. Contact us today to learn more about how we can help you move better and feel better with our unique approach to mobility and injury prevention.
Thank you for considering Major League Activation. We look forward to helping you achieve your goals!
Space is limited so call today for an appointment!
P.S. You do not need to be a professional athlete to be treated like one!
Services Provided
Muscle Activation Technique
What people are saying
"I have known Matt for over 10 years now. He has helped me at every level in professional baseball. As my athletic trainer in the Major Leagues he helped me prepare my body on a daily basis with his unique skill set. Matt also excels at making the mind-body connection. I just tell him this is how I need my body to move for my desired swing and he is able to activate the necessary muscled so I can perform at my best.
I trust Matt and I highly recommend him to anyone that wants to move and perform better."
Kyle Seager-Former Third Baseman for the Seattle Mariners
"Hello Everyone, this is Rick Griffin, I was the Head Athletic Trainer for the Seattle Mariners for 35 years and had the pleasure of supervising and working along side Matt Toth for 14 plus years. He has a tremendous knowledge base in rehabilitation of all sports related injuries and his biggest strength is his ability to develop and prepare return to play programs for athletes who have suffered a repetitive injury or someone returning from a surgical procedure. Matt has excellent hands on skills including the use of Muscle Activation Techniques (MAT) which was widely used in our training room to treat shoulder, elbow, back, pelvic and lower extremity issues. Matt really cares about the athletes he treats and goes out of his way to listen to them and make them a part of the healing process which leads to increase trust and faster recovery times and a quicker return to the field of play."
Rick Griffin Seattle Mariner Athletic Trainer Emeritus
"Very grateful for getting recommended to Matt from Dr. Meister. I am thankful for Matt's knowledge and commitment to my growth each and every day. From day one Matt has been getting me back to above and beyond the level I was at before surgery. I am fortunate and appreciate having someone who is so skilled work with me through my rehab process."
— J. W. Collegiate baseball player